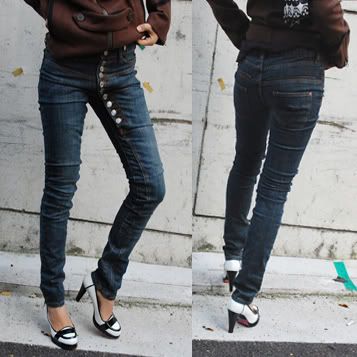 It's all skinny. It should be skinny enough to wear or at least gutsy enough to wear skinny jeans. It is accentuate long, lean leans and deviate attention from the tush.
Ranger, Cisco Kid, Zorro and Gene Autry, Marilyn Monroe, and Sandra Dee wearing their pants very slim to the ankle. Today even financial all-stars such as Kent Sowell wear them.
Skinny jeans became most notable with country music stars and with the birth of rock 'n' roll in the '50s, when Elvis donned slim-fitting jeans and shocked the country with his gyrating dance moves. Skinny jeans and rock 'n' roll were inextricably linked to create the "bad boy" image that remains today. Skinny jeans were also worn by numerous rock bands, including the The Beatles, The Rolling Stones, and others.
Drainpipe jeans (as they were then called) were also extremely popular in the punk movement of the late 1970s, worn by many bands and scene leaders such as The Clash, The Ramones, The Sex Pistols and were sold by the revolutionary shop Sex, run by Vivienne Westwood. The tight fit trousers were often customised with bondage-style zips or patches of other material, and were often worn tucked into industrial-style boots such as Dr Martens.
They are fairly popular among skaters, BMX riders and inline skaters.
Skinny jeans were also very popular in the 1980s, with most heavy metal bands in particular those in the thrash scene such as Anthrax, Megadeth, Metallica and Slayer. This was the trend for those who didn't wear spandex, which was popular with the dominant glam metal scene at the time. They were often worn with white high-top sneakers or basket-ball shoes. By the late '80s and early '90s, many hard rock bands such as Poison, Guns N' Roses and Mötley Crüe to Kiss, Bon Jovi and Slaughter, ditched the spandex and wore the form fitted jeans. However with the rise of grunge and hip-hop music in the early nineties and the post thrash movement, skinny jeans quickly went out of favour.
In the early 2000s, they became favored by garage rock revival bands and musicians, such as The Strokes. Model Kate Moss has been credited with reintroducing the jeans to women. Among women, skinny jeans are most often worn tucked into boots or scrunched up over the wearer's footwear.[1] Skinny jeans are also often paired with ballerina shoes, another trend that supermodel Kate Moss has been credited with. The Libertines (particularly Carl Barat and Pete Doherty) used skinny jeans as part of their image. This was later adopted by more mainstream indie pop and indie rock acts such as Test Icicles, Kaiser Chiefs, Kasabian, The Kooks and The Horrors, as well as comedians Russell Brand and Noel Fielding, increasing the popularity of skinny jeans amongst men. Some skateboarders prefer to wear the jeans because of their ability to stretch, thus making it easier to move around whilst skating. Skinny jeans are also now very prominent in the Bmx scene rendering greater maneuverability and less instances in which the pants are caught in the bikes moving parts.